Our friend the horse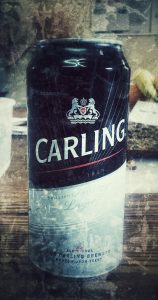 Apologies for the Carling
We woke of sound mind… as ever, heading east to Water of Lee/River Lee/Glen Lee/Loch Lee and then on the track to Tarfside that runs north of Hill of Rowan and past an impressive memorial.
We were re-entering civilisation, the last of any wilderness gone, inevitable mixed feelings of a great walk and discovery coming to an end filling us. Yet this was somehow halted by tremendous hospitality and the warmest of welcomes at Tarfside where we had bacon butties, egg butties, cakes, tea and best of all a shower.
We also met a few characters including Kurvy Pev and the The Swimmer; I also need to confess that there were only two tins of beer left. Of course I snapped them up. Alas they were Carling.
Oh yes, Nick broke the disabled seat in the shower, built for substantial weights, but not Nick's it appears.
It was a fantastic if not noisy camp. It had been a while since we shared a dawn chorus with lowland birds. My they can sing. A lovely place to camp though, and at any time – the estate maintains the fields and toilet block and allows free camping and free use of the facilities which is generous. There does seem to be a lot of community activity and pride in this remote part of Scotland, it was very noticeable, running from the free campsite to restoration appeals to activity groups. Long may it last!
We of course imbibed, but gently, and chatted with the good doctors as they talked about shin splints and blisters and took the piss out of our cuben fibre fetish. The night ended with me stuffing earplugs in my ears as once the birds stopped Nick started and his renditions of The Forest (a good song murdered) and Somewhere Over The Rainbow (an appalling song made worse, indeed massacred) were the last things I heard this night.